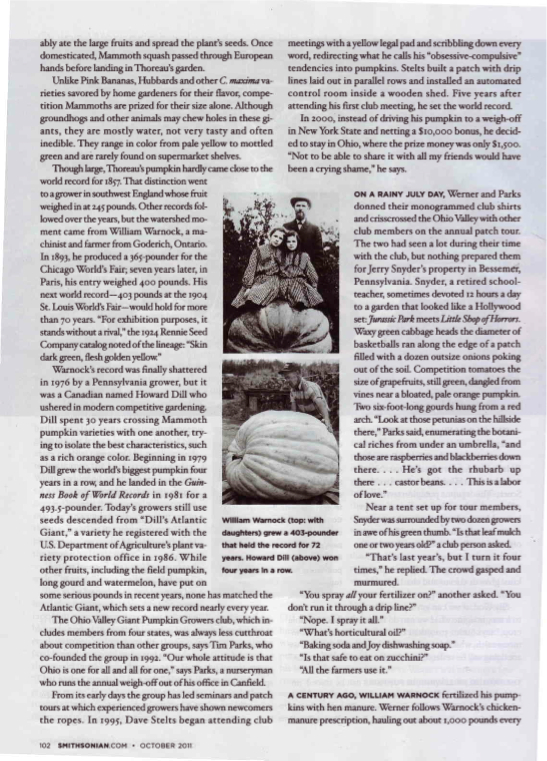 /
The Great Pumpkin
Competitive vegetable growers are closing in on an elusive goal—the one ton squash
Quinn Werner's backyard pumpkin patch overlooks a wooded creek. In the winter, when the maples and oaks stand like toothpicks and snow coats the western Pennsylvania valley, Werner gazes out his kitchen window and caresses his prizewinning seeds. The topsoil is frozen solid and his orange Kubota tractor gleams in the garage like a showroom floor model. He is not a big talker, but every Thursday his buddy Dave Stelts phones, and their conversation always comes back to springtime, to the patch and the weigh-off.
In April, Werner germinates his seeds, each one as long as a quarter, by soaking them in a mix of hydrogen peroxide and water. He pots them and incubates them in a cooler with heating pads.
He then places the seedlings under fluorescent lights upstairs in what he calls his pumpkin room. On nice days, he takes the little pots outside for an hour or two for fresh air and natural sunlight. In May, every seedling is planted in the patch under its own clear plastic tent fitted with incandescent bulbs that are switched on during chilly nights. Within weeks, the vines stretch out octopus-like from underneath the plastic. In June, when the first golden trumpets of female flowers begin to open, Werner brushes them with pollen-covered stamens from select male flowers and covers them with plastic foam cups to prevent honeybees from meddling with the pumpkin's pedigree.
When I visited Werner's property on a sweltering summer afternoon, he was checking his patch for the third time that day. Werner, 50, is a trim man with a gray beard, frameless glasses and a bald spot he often covers with a baseball cap. He straddled the orange mesh fence that surrounds his garden and waded through a sea of stiff, broad leaves toward a thigh-high dome covered by an old bedsheet. His 12 pumpkins had been growing for less than a month, so I had expected that one would be small enough to hoist into the back seat of a sedan. Werner whipped off the sheet, and there sat a shiny pale pumpkin (they turn orange later in the year) that seemed to sag on one side like a mound of Silly Putty left out in the sun. Based on its circumference, it was pushing 400 pounds, he estimated. And the season had just begun.
Werner beamed. "It's real long and real wide," he said. "It's in really good shape."
But as he leaned in closer, running his hand along a smooth ridge, his face grew taut. "Oh, man, as a matter of fact, it's split." Tucked into the blossom end of the pumpkin was a tiny crack. Even if the crack wasn't enough to disqualify the fruit from competition (and it was), it would grow and provide access to bacteria that could quickly rot the pumpkin from the inside out. "That makes me sick," he said. "This is the reason why I grow so many." He sighed, recalling the axiom that Stelts has turned to in the face of such adversity: "If you're not blowin' them, you're not growin' them."
Werner and Stelts are competitive gardeners who vie for bragging rights and prize money that ranges from a few hundred to thousands of dollars. Their crop of choice is the Atlantic Giant Pumpkin, a freak of nature and intensive breeding that is raised by thousands of growers around the world. During peak growing season, the pumpkin can bulk up by 50 pounds per day. At that rate, the fruit's underside may curve into a concave shape, one of the many ways in which a glorious globe can split, shattering dreams of victory. The pumpkin Werner showed me that hot afternoon had suffered a crack after swelling too quickly after a hard rain. In general he has kept about two-thirds of his colossal calabazas intact. In 2008, he earned the title of "grower of the year" after trucking pumpkins to six weigh-offs and winning five of them with an average weight of nearly 1,500 pounds. "I lost by two pounds in the sixth," he says.